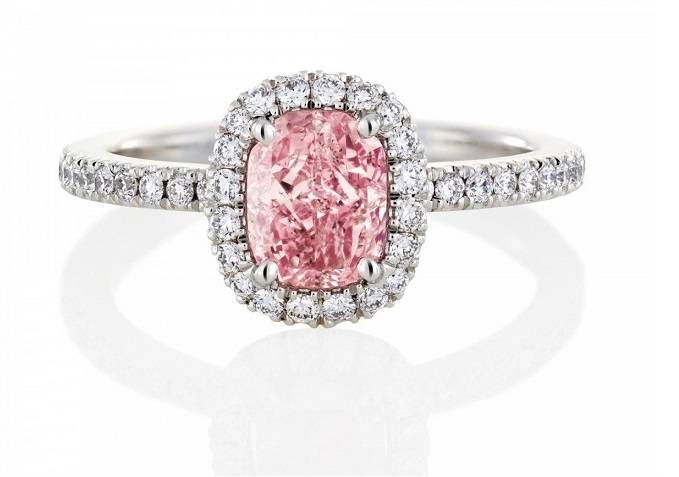 SAY IT IN TECHNICOLOUR...
We have a choice of several classic and contemporary diamond halo ring designs for you to customise with a centre fancy diamond of your choice. Choose between rose, white or yellow gold, platinum or palladium settings.
Every fancy centre diamond is sourced responsibly and it's origination available for your inspection.
"FANCY" DIAMOND HALO RINGS
In diamonds, rarity equals value. The rarest and most valuable coloured - or "fancy" - diamonds are saturated pinks, blues, and greens. In all cases, even very slight colour differences can have a big impact on value.
Fancy Light Yellow through to Intense Yellow
Coloured diamonds - also known as "fancy" diamonds are graded by the GIA in much the same way as all other diamonds are assessed, but of the "4 C's" the focus here is upon "C" for Colour.
All our fancy diamond solitaire rings are made to your exact size. Choose your colour and cut from all available GIA certified diamonds.
Resizing is included with our compliments.
We will identify suitable diamonds based upon your cut, carat weight and colour requirements - and budget.
You will know the exact diamond specification before proceeding.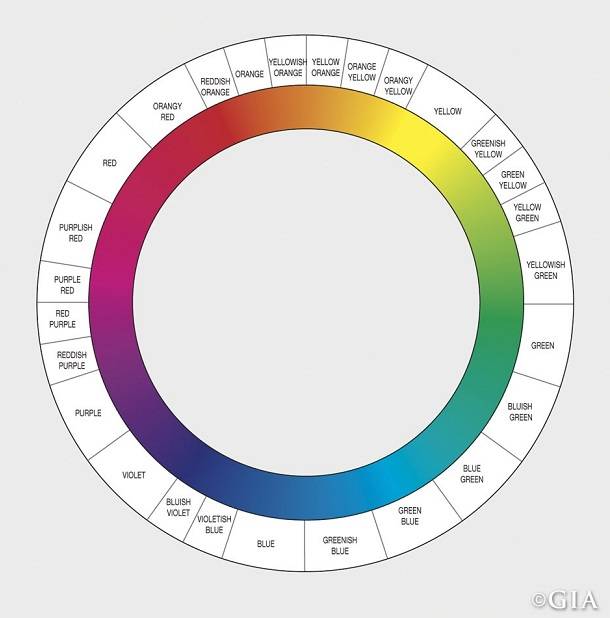 The GIA system for colour grading fancy diamonds is designed to accommodate the fact that not all coloured diamonds have the same depth of colour.
For example, yellow diamonds occur in a wide range of saturations, while blue diamonds do not.

Compared to fancy yellows and browns, diamonds with a noticeable hint of any other hue are considerably more rare. Even in light tones and weak saturation, as long as they show colour in the face-up position, they qualify as fancy colours.
Yellow diamonds graded as fancy intense to fancy vivid are also referred to as canary yellow.
Canary yellow diamonds are rarer and more visually striking and are commensurately more valuable.
It is worth noting that normal "white diamonds" of a lower colour grading will appear very slightly yellow. This yellow tint is difficult to identify in a diamond of colour grade D-F.
STANDARD DIAMOND COLOUR GRADING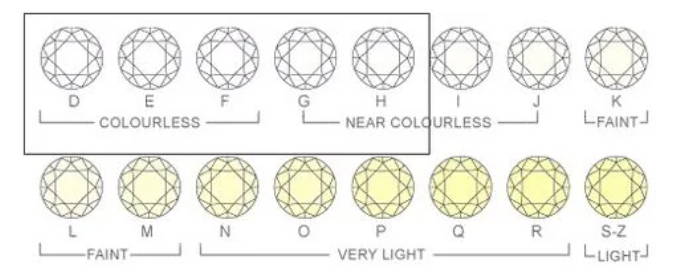 As the colour grade descends to K or L and below, this yellow tinge becomes more apparent.
But a diamond of colour grade K or L (and to as low as Z), while being progressively yellow, does not qualify as being a "fancy" yellow diamond.
It is only once the colour grading exceeds Z that the diamond may be considered a "fancy yellow" stone.
And the deeper and more saturated the yellow tone, the more coveted and valuable the stone becomes.
Red, green, and blue diamonds with medium to dark tones and moderate saturations are extremely rare. Their market values reflect this and even if money is no object, finding a larger carat weight high grade example is a challenge in itself.
Grading fancy colour diamonds is complex and specialized, and it takes highly trained laboratory graders to complete the process accurately.
This is why we only sell fancy diamonds independently graded and certified by the GIA or IGI.
With fancy coloured diamonds—the ones outside the normal colour range—the rarest and most valuable colours are saturated pinks, blues, and greens. In all cases, even very slight colour differences can have a big impact on value.
Adele, Iggy Azalea, Olivia Palermo, Anna Kournikova and Heidi Klum are just a few high profile celebrities who have embraced the love for the yellow diamond.
Blue diamonds are extremely rare. They generally have a slight hint of gray, so they're rarely as highly saturated as blue sapphires. Their color is caused by the presence of boron impurities—the more boron, the deeper the blue.
Please contact us for current prices & availability
Diamonds with red or reddish colors are extremely rare and highly valued. Pure pinks are more popular than diamonds that are purplish, orangy, brownish, or grayish. Jewellers market some very attractive stones in this category as "rose-colored," and some stones with purplish tints as "mauve" diamonds.
Please contact us for current prices & availability