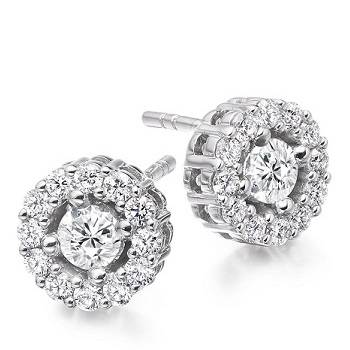 Sometimes called the 'little black dress' of diamond jewellery everyone should have them in their essentials collection.Diamond earring studs pair well with upmarket evening wear, but can also be dressed down by wearing them with jeans or shorts.Whichever shape and size you choose, they are sure to bring a smile.
Diamond hoop earrings are generally larger than 'huggies' and allow for space between the ear lobe and the earring itself. Designs that display the diamonds front facing along the rear of each hoop ensure maximum visual impact, rather than those diamonds being partly hidden when worn.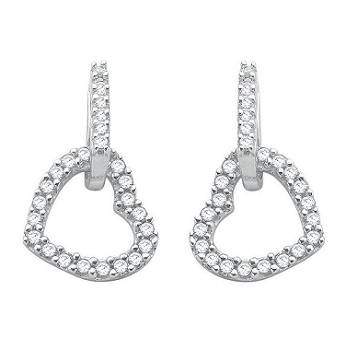 Diamond drop earrings come in all kinds of styles and sizes with an accent upon animation and glamour. They are particularly appealing to ladies with smaller ear lobes and for hairstyles worn over rather than above the ear. This style allows for an added degree of design creativity and expression..
I bought my wife a pair of solitaire diamond earrings for her birthday from Pobjoy after seeing their website. They were extremely helpful, the earrings were excellent and definitely a lot better value than anything similar I could find in my local jewellers.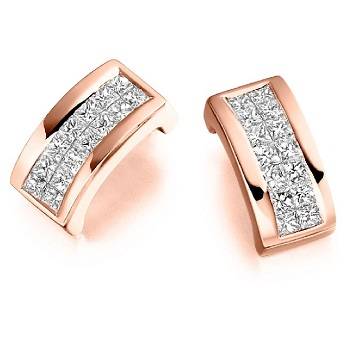 9K or 18K Gold Diamond Earrings
9K gold is 'softer' than 18K gold but visually they are hard to tell apart from one another. In 9K gold the intrinsic gold used is 37.5% while in 18K gold it is 75%, the remaining constituents made up with other durable alloys such as silver and zinc. White and rose gold employ a finishing effect such that the colour does not continue below the surface of the finishe jewellery. If the jewellery is to be worn on a very regular basis-or up against other jewellery- the softer the gold the more vulnerable it is to abrasions. These can however be professionally polished out.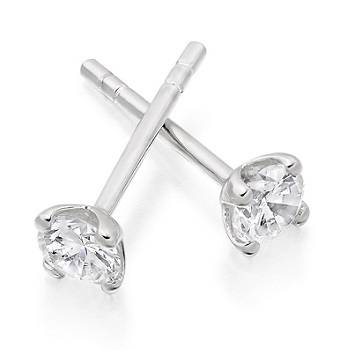 950 Platinum Diamond Earrings
950 platinum enjoys enduring popularity primarily due to it's hardness and resiliance. Pobjoy platinum jewellery uses 95% platinum mixed with other alloys which lend the precious metal additional ductality in the design and production process. Platinum does not tarnish and is hypoallergenic thus appealing to those with sensitive skin. It's appearnce is essentially similar to white gold. Where an item of jewellery is expected to be worn regularly and by those with very active lifestyles 950 platinum is particularly appealing.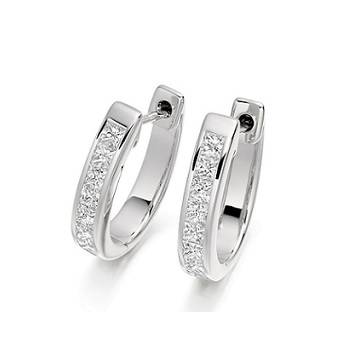 950 Palladium Diamond Earrings
Like 950 platinum, 950 palladium is extremely hard and robust and is blended with 5% of other alloys to assist in the jewellery production and finishing process. It is also hypoallergenic and slightly lighter than platinum. It's appearance is maginally whiter than other precious metals and extremely easy to maintain, resilient to scratching and pitting. It is also the most expensive of the precious metals based on current market prices..
Why not add some bold radiant colours to your diamond earrings? Our coloured gemstone and diamond earrings contrast the bright white sparkle of the natural diamond with premium grade red rubies, green emeralds and blue sapphires to create uplifting jewellery of distinction.
GIA CERTIFIED DIAMOND STUD EARRINGS
Our diamond stud earrings contain the highest quality natural diamonds of at least H colour and Si1 clarity.
Our diamond stud earrings are GIA, IGI or WGI certified.
Bespoke solitaire diamond earrings are GIA certified and as per your preferred specifications. We only sell diamonds certified by independent industry recognised institutions due to the integrity of their grading.
Diamonds of D and E colour on the grading scale are extremely clear and white and are at the top of the colour chart. The clarity grade of VS signifies Very Slight inclusions such that to the naked eye the natural 'birthmarks' of the diamond cannot be seen. Indeed, even under ten times maagnification they are hardly visible to the human eye.
Diamonds of F and G colour are very clear and white as the diamonds we use are without fluorescence and are full of life. The clarity grade of VS signifies Very Slight inclusions such that to the naked eye the natural 'birthmarks' of the diamond cannot be seen. As with D-E/VS grade diamonds, even under ten times magnification they are hardly visible to the human eye.
Diamonds of G and H colour are also clear and white as the diamonds we use are without fluorescence. The Si1 clarity denotes slightly included. While such inclusions will be slightly more visible than VS graded diamonds under ten times magnification the human eye would find it exteremely difficult to notice such marks until clarity Si2, especially in the case of smaller point diamonds.
All our diamonds are what is known as 100% eye-clean which means they appear clear and sparkling white to the naked eye. Diamond halo and cluster earrings over 0.25 carat weight in total are provided with a HGDL certificate where stated in the product details.
Pobjoys helped me find just the right pair of diamond earrings for our wedding anniversary. My wife was delighted. Thank you!
Princess Cut Diamond Earrings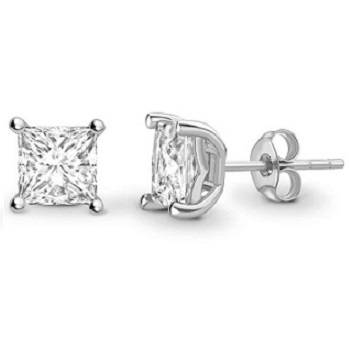 Princess cut diamonds of a high quality such as those used in all Pobjoy diamond jewellery display significant sparkle and light reflection properties. Minimal differences between the princess cut and round brilliant cut diamond 'performance' tend to becomes more apparent when comparing larger single-set stones, for example solitaire rings.
Round Brilliant Cut Diamond Earrings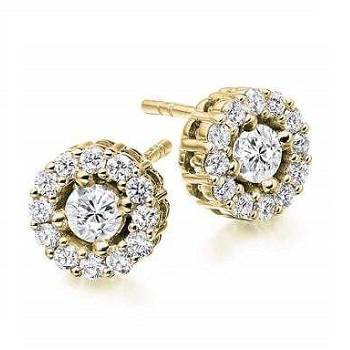 Round brilliant cut diamonds tend to reflect slightly more light than other shape stones of a similar grade. They are also generally more expensive per carat although the face up size of a round brilliant cut appears marginally smaller. The difference in price is due to the fact that a rough diamond is essentially square to start with such that more of the diamond is shed in the cutting process.
Baguette & Shaped Diamond Earrings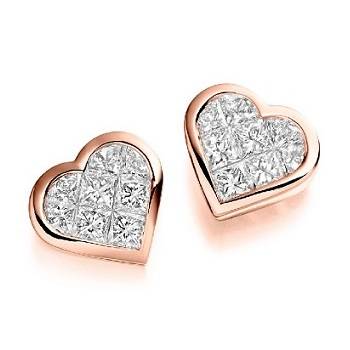 More unusual shaped designs and hug earrings may alternatively feature baguette shape, oval or pear shape diamonds. Where the earring setting is of a shaped design the diamonds used may be curved or tapered but this effect can also be created by using several small stones also referred to as melee set. Heart shape diamonds have also become popular in recent years.

Read more reviews by our customers
* Warranty applies to workmanship. We will repair any manufacturing defects to your diamond set earrings free of charge upon proof of purchase for up to 10 years from the date of order. Warranty applies to all 18K gold, 950 platinum and palladium diamond set earrinngs shown. Excludes the effects of general wear and tear, inappropriate handling or signbificant impacts. Warranty does not cover any items which have been in any way adjusted or serviced by any third party.