DIAMOND RING COSTS EXPLAINED
Here we give an approximate breakdown of the costs involved in creating your diamond engagement ring. Of course the proportion of each cost will be materially influenced by the style of ring you choose, specifically the size and grade of the centre diamond.

For illustrative purposes we are considering here a centre round brilliant cut GIA certified 0.50 carat diamond F/VS2 grade with diamond halo and shoulders of 0.40 carats total weight, F/VS grade, in 950 platinum.
Choice of centre diamond. Whether a solitaire diamond ring or a halo and shoulders the focal diamond will represent the largest single cost element, especially if of a high grade and carat weight. The larger and higher the grade of the centre stone, the greater the proportion of the overall costs it will represent.
Surrounding diamond halo, side stones and shoulders are usually smaller size (or "point") diamonds and are less expensive in aggregate than a single diamond of comparable weight. Nevertheless, the quality, cut and expert hand setting of these melee diamonds can represent a substantial portion of the engagement ring cost.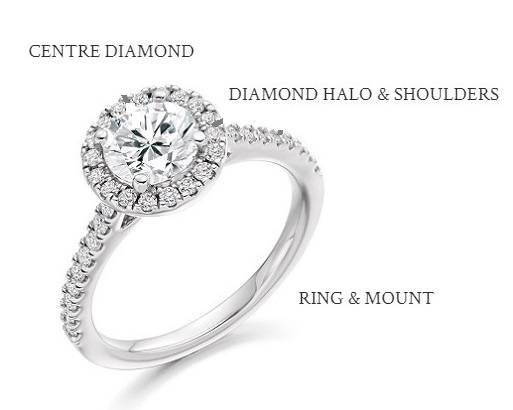 Ring and diamond mount. Usually made from 18 carat gold, 950 platinum or palladium, this aspect of the engagement ring's cost is influenced by prevailing precious metal market prices, the total weight of the precious metal used and the overall design intricacy.
Setting, polishing, quality checking, hallmarking and engraving involve time, experienced skillsets and attention to detail and thereby an important cost element of the finished piece.
One also needs to accomodate for ongoing after sales service, potential re-sizing and warranty.
SUMMARY OF ATTRIBUTION OF COSTS