BEST VALUE ENGAGEMENT RING STYLES
Tips on optimising your budget
Diamonds have an image of purity and light. They are given as a pledge of love and worn as a symbol of commitment.
You don't need to break your budget to buy a fabulous personalised diamond ring from Pobjoy Diamonds. Here we show you several ways to optimise the look of your diamond ring to your budget and taste.
Surrounding a centre diamond with a series of smaller "halo" set diamonds provides the illusion of a much larger "face-up" coverage.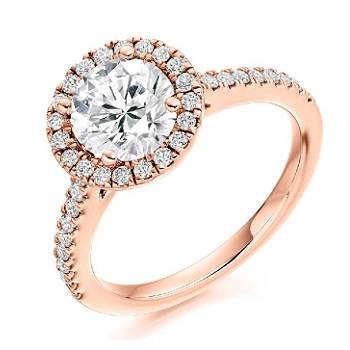 Even the premium quality and cut melee diamonds set in Pobjoy rings are much less expensive than a single diamond of the same combined carat weight.
With a single or even double halo of surrounding diamonds the overal sparkle is magnified.
Solitaire With Side Stones
Also referred to as a trilogy ring this diamond ring style resonates with those inclined towards the classic solitaire but wanting some additional detail. By including smaller size side diamonds, typically tapered baguettes, the face-up aspect of the diamond coverage is enhanced without taking too much attention away from the centre stage - and without escalating the budget.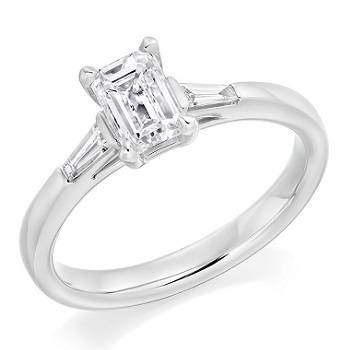 Round brilliant cut diamonds are more expensive on a comparable carat weight and grade basis than other shaped diamonds. In very simplified terms this is because rough uncut diamonds tend to be of a square or oblong shape such that there is more of the diamond "lost" in the cutting process.
Therefore whether you are going for a solitaire or halo set diamond ring style you will get more carat weight for your budget with those other cuts.

Diamonds of elongated shapes such as marquise, oval and pear - even when set as solitaires - tend to look marginally larger than round brilliant and princess cut stones.
They also tend to make the finger appear longer and more slender than square or round cut diamonds.
Laboratory Grown Diamonds
Instead of a naturally mined diamond you may want to consider a laboratory-grown version. Laboratory-grown diamonds are not "fake" or immitation. In fact, in nearly every respect, they share the same structural qualities of natural - or "mined" - diamonds.
Fast grown and poorly created laboratory - grown diamonds should be avoided. But by sticking with IGI or GIA stones, where the integrity of the grading can be relied upon, it is possible to bag a much larger and higher grade diamond within the same budget.
Regarded increasingly as the more ethical choice, the improvements in growing techniques and expertise mean a greater choice of cuts and grades becoming available.
They are also more affordable, with the proportionate difference in value becoming more significant the larger the carat weight of the diamond.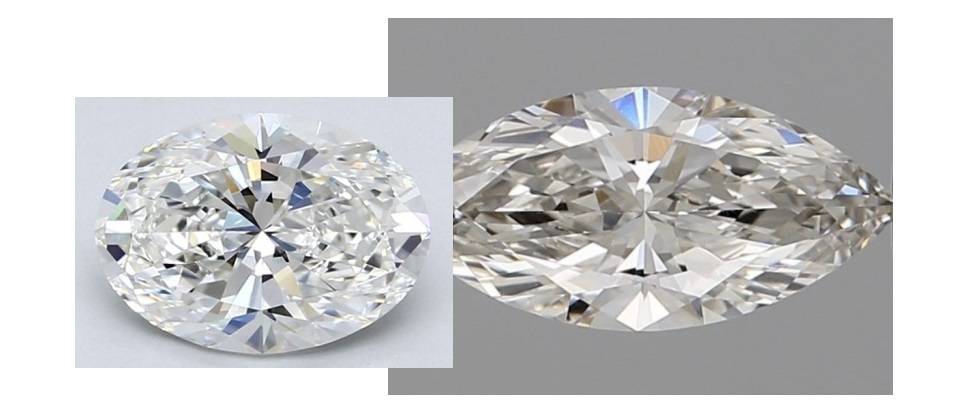 The width of the ring or band itself will have an influence on the appearance of the diamonds set upon it. This is particularly true of solitaire diamond rings where the objective of the ring design is to be unobtrusive and allow the chosen diamond to seemingly float above the finger, rather than be the centre of attention.
It is inevitable that most of us migrate towards round numbers and in the case of diamonds one or two whole carats will do nicely thank you. However, by way of example of the impact on price, a round brilliant cut diamond of around 0.90 carats will cost materially less in percentage terms than a similar standard stone of 1.00 carat or over.
Because a substantial proportion of each diamond's weight is distributed over the aspect of the diamond that remains out of sight within the mount, the actual "face up" - or surface area - of the diamond is not reduced by an amount noticeable to the naked eye when a slightly smaller size diamond is chosen.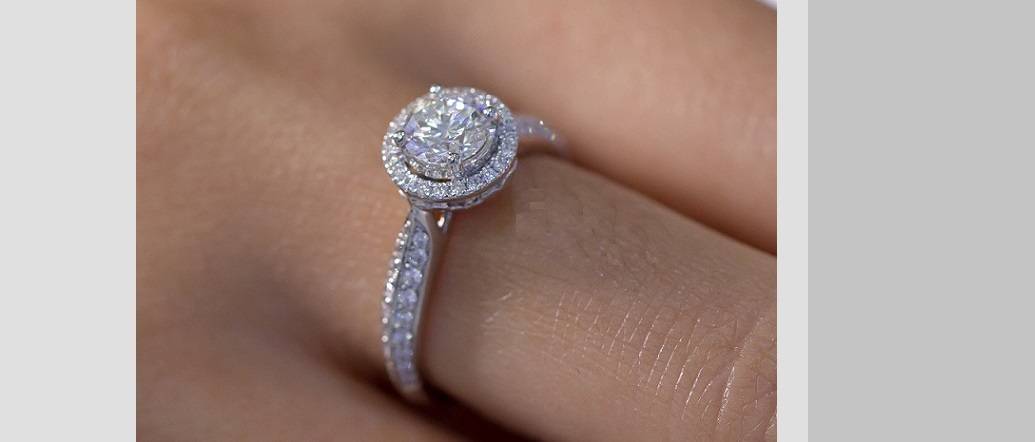 This is probably the most overlooked factor in making the most of your diamond whatever it's size and grade. Just by placing your diamond ring for a few minutes in a bowl of very hot water with a tiny amount of washing up liquid and then rinsing under a tap will remove most of the daily grime that inevitably builds up.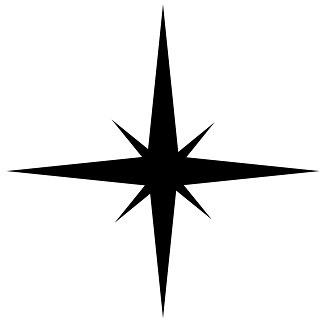 Remember that your diamond ring is constantly exposed to the outside elements but you can only appreciate quite how much these dull down the sparkle of your diamond once you have given it a clean.
Take your time in deciding which ring and diamond style to go for. There is no rush. Don't hesitate to reach out for any guidance or assistance - we are here to help you. And remember there is no pressure on you to buy just because you open up a dialogue!
You can read more about diamond grading, anatomy, the "4 Cs" and certification under the Sizing & Guides tab. We would also love to hear from you if you have any other questions, would like to order a sample ring to try at home or perhaps arrange an appointment at our visitors suite.