The diamond tennis (or 'line') bracelet was popularized by the international tennis phenomenon and renowned harbinger of style Chris Evert.
She famously lost her diamond bracelet during a match in the 1987 US Open tournament and stopped play to locate it, while spectators and TV viewers around the world looked on. Since that day jewellers soon received requests for similar 'tennis bracelets'.
Diamond tennis bracelets have in fact been popular since the 1920's and their wide appeal and versatility continues to this day.
The choice in style has grown over the years to include unusual shaped diamonds, a variety of precious metal settings and the inclusion of semi-precious gemstones such as sapphires and rubies. They are often bought to mark a very special event or anniversary and handed down through the generations.
WHEN TO BUY A TENNIS BRACELET
As the phrase suggests this style of setting embraces the line of diamonds within a channel of the chosen precious metal. This allows the table of the diamonds to remain fully visible while displaying a greater amount of the precious metal to be seen especially when viewed from the side.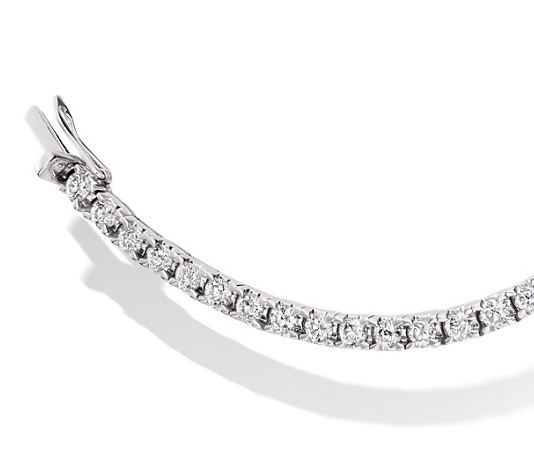 Claw set diamond tennis bracelets tend to each diamond cradled within a series of four closed prongs. Visually this means that more of the diamond is on display specifically the pavilion as well as the table and crown. As a result the precious metal is less noticable.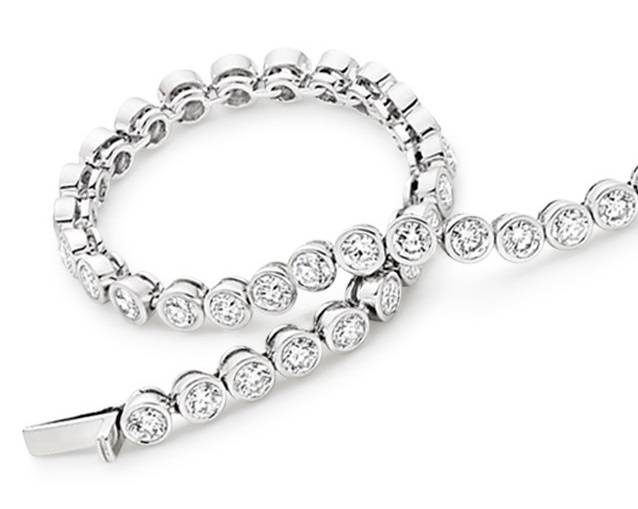 In some respects this style of setting maybe considered a hybrid between channel and claw set. In this case each diamond is effectively recessed into a precious metal surround such that the table of each diamond is visible while pavilion is not.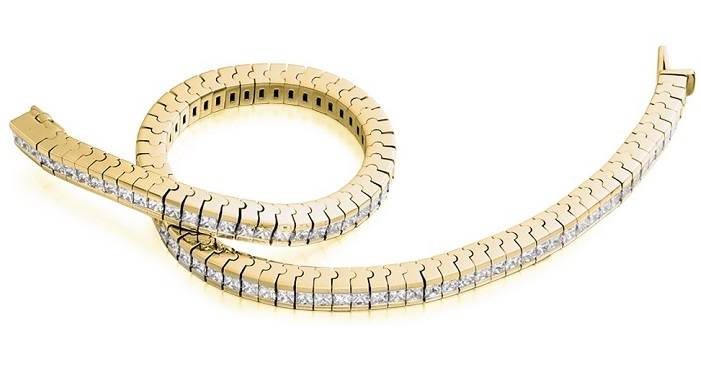 Princess cut diamonds of a high quality such as those used in all Pobjoy diamond jewellery display significant sparkle and light reflection properties. The difference between the princess and round brilliant cut diamond 'performance' tends to becomes more apparent when comparing larger single-set stones, for example solitaire rings.
Round Brilliant Cut Diamonds
Round brilliant cut diamonds tend to reflect slightly more light entering the stone than the princess cut shape. They are also generally more expensive carat for carat although the face up size of a round brilliant cut appears marginally smaller. The difference in price is due to the fact that a rough diamond is essentially square to start with such that less of the diamond is lost in the cutting process.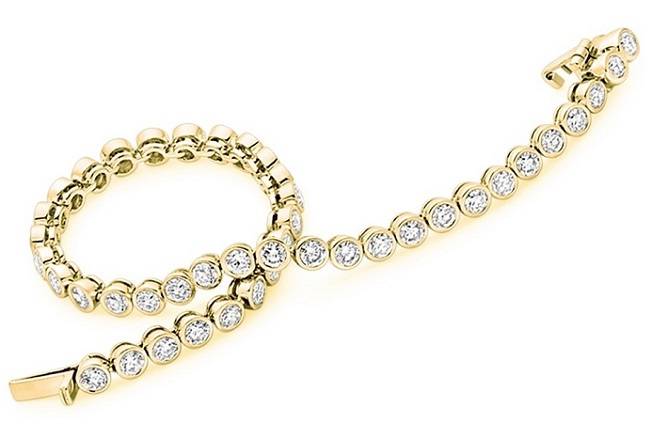 Diamonds of D and E colour on the grading scale are extremely clear and white and are at the top of the colour chart. The clarity grade of VS signifies Very Slight inclusions such that to the naked eye the natural 'birthmarks' of the diamond cannot be seen. Indeed, even under ten times maagnification they are hardly visible to the human eye.
Diamonds of F and G colour are evry clear and white as the diamonds we use tennis bracelets are without fluorescence they are full of life. The clarity grade of VS signifies Very Slight inclusions such that to the naked eye the natural 'birthmarks' of the diamond cannot be seen. Indeed, even under ten times maagnification they are hardly visible to the human eye.
Diamonds of G and H colour are also clear and white as the diamonds we use in our tennis bracelets are without fluorescence. The Si1 clarity denotes slightly included. While such inclusions will be slightly more visible than VS graded diamonds under ten times magnification the human eye would find it exteremely difficult to notice such marks until clarity Si2.
CHOICE OF PRECIOUS METAL SETTING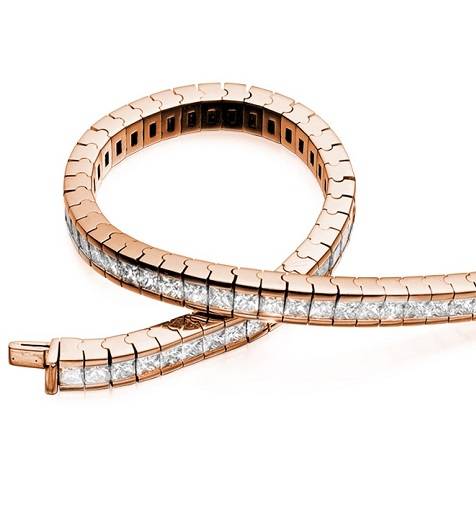 9K gold is 'softer' than 18K gold but visually they are hard to tell aprt from one another. In 9K gold the intrinsic gold used is 37.5% while in 18K gold it is 75%, the remaining constituents made up with other durable alloys such as silver and zinc. White and rose gold employ a finishing effect such that the colour does not continue below the surface of the finishe jewellery. If the jewellery is to be worn on a very regular basis-or up against other jewellery- the softer the gold the more vulnerable it is to abrasions. These can be however be professionally polished out.
950 platinum enjoys enduring popularity primarily due to it's hardness and resiliance. Pobjoy platinum jewellery uses 95% platinum mixed with other alloys which lend the precious metal additional ductality in the design and production process. Platinum does not tarnish and is hypoallergenic thus appealing to those with sensitive skin. It's appearnce is essentially similar to white gold. Where an item of jewellery is expected to be worn regularly and by those with very active lifestyles 950 platinum is particularly appealing.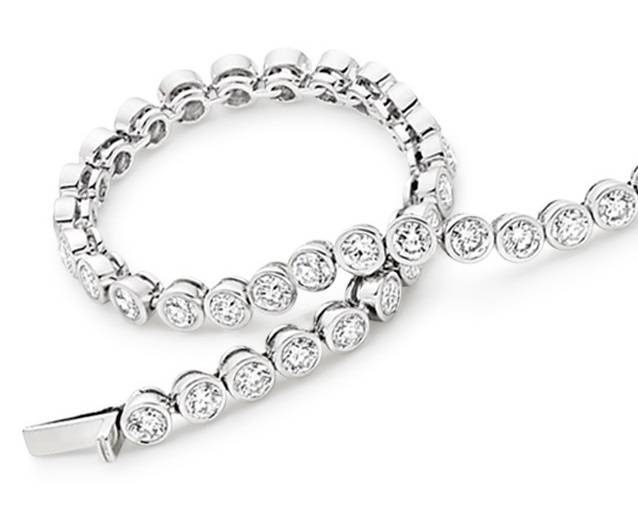 Like 950 platinum, 950 palladium is extremely hard and robust and is blended with 5% of other alloys to assist in the jewellery production and finishing process. It is also hypoallergenic and slightly lighter than platinum. It's appearance is maginally whiter than other precious metals and extremely easy to maintain and resilient to scratching and pitting. It is also the most expensive.
The combined total weight of carats abbreviated to 'CTW'is distributed evenly across the tennis bracelet. A diamond tennis bracelet will typically feature between 36 and 40 individal diamonds in line connected by a secure precious metal clasp. Therefore a 2 carat weight bracelet will feature a series of diamonds between 0.050 carats (5 'points') and 0.05 carats each.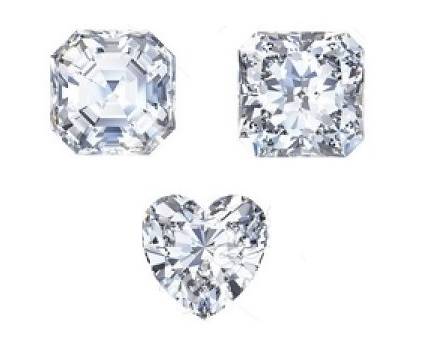 It is worth noting that a 4 carat weight tennis bracelet for example will not appear exactly double the size of a 2 carat version in terms of the face up size, as the overall mass of each diamond needs to be factored in. In fact a 10 point round brilliant cut diamond will have a face up diameter of approximately 30% more than a 5 point equivalent gemstone.
The Pobjoy name has been synonymous with high-jewellery and precious metals since the 1930s. We do not operate costly high street boutiques and pass on the inherent savings to our discerning customers. In fact our prices are typically between 35% and 60% lower than high street shops.
Our visitors suite is located within the presitgious British Pobjoy Mint. We welcome potential customers to come in and see us and discuss their requirements in a relaxed, friendly and pressure free environment.
Visits are by appointment only and we provide free parking and are located close to Kingswood station with direct services to and from London Brodge and Kings Cross. Junction 8 of the M25 is a five minute drive.
See what our customers say about us