An eternity ring is often bought for a partner after the birth of a child, to celebrate a key wedding anniversary, to acknowledge a key milestone or acheivement, as a birthday present or simply as a way to demonstrate your undying love!
We are also seeing a trend towards the eternity ring representing the traditional engagement ring and wedding band combined.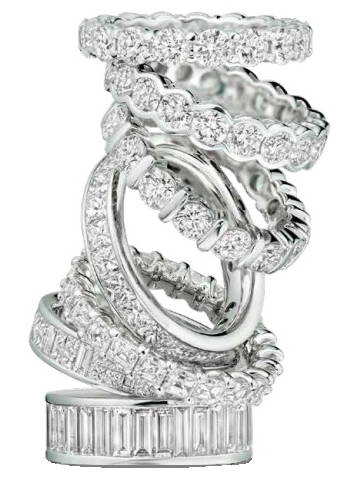 An eternity ring is traditionally worn on the left hand and on the same finger as an engagement ring. It is sometimes bought instead of a wedding ring.
In more recent years independent women have bought eternity-style rings (as well as cocktail rings) for themselves to wear on the right hand - hence the phrase 'right-hand ring'.
FULL OR HALF ETERNITY RING?
There is no clear preference in this respect. Traditionalists may prefer the full eternity version as it represents a continuous - or 'infinite' - expression of love and commitment.
A full eternity ring denotes a continuous row of gemstones around the entire circumference.
A half eternity ring features the gemstones across the upper arc of the band only, usually covering between 20% and 60% of the overall ring circumference.
The half eternity style looks essentially the same when viewed from above as a full eternity, but features a proportionately lower carat weight of gemstones.
THINGS TO CONSIDER BEFORE YOU BUY
If the eternity ring is to be worn next to the engagement ring it is important to consider how well it will nestle in.
For example a wide engagement ring with a generous halo may require a narrower eternity ring or perhaps a shaped or "cutaway" style which is designed to accomodate this.
Some ladies also prefer the smooth and slightly less obtrusive feel of the half eternity ring inside the grip of the hand, although this is only relevant in the case of a particularly heavy carat weight creation. One should also consider the setting of the gemstones.
For those with very active lives a ring with high profile claw set diamonds will be more exposed to impacts than channel or rub over set.
It is also worth pointing out that resizing a full eternity ring is a lot more challenging once made than a half eternity ring - so it is crucial to check your size carefully before you buy.
Whether you go for 9 carat or 18 carat gold or 950 platinum is largely down to personal taste and of course how it will look if worn next to the engagement ring, if applicable.
If you have decided upon a 'white metal' it is worth considering 950 platinum or even 950 palladium. This is because both precious metals are extremely resilient to knocks and abrasion as well as being hypoallergenic.