ETERNITY RING BUYING GUIDE
An eternity ring is traditionally worn on the left hand and on the same finger as an engagement ring. It is sometimes bought instead of a wedding ring.
FULL OR HALF ETERNITY RING?
There is no clear preference in this respect. Traditionalists may prefer the full eternity version as it represents a continuous - or 'infinite' - representation of love and commitment. The half eternity style is essentially the same when viewed from above and like for like is inevitably less expensive to buy.
A 'full eternity' ring signifies a continuous row of gemstones around the entire circumference. A 'half eternity' ring features the gemstones across the face - or top - of the band only, usually covering between 30% and 50% of the circumference.
THINGS TO CONSIDER BEFORE YOU BUY
If the eternity ring is to be worn next to the engagement ring it is important to consider how well it will nestle in. For example a wide engagement ring with a generous halo may require a narrower eternity ring or perhaps a 'cut out' style which is slightly curved to accomodate this.
Some ladies also prefer the smooth and slightly less obtrusive feel of the half eternity ring inside the grip of the hand, although this is only relevant in the case of a particularly heavy carat weight creation. One should also consider the setting of the gemstones. For those with very active lives a ring with high profile claw set diamonds will be more exposed than channel or rub over set.
For maximum visual impact you will get more for the same money from a half eternity ring - simply because the same total cratat weight of diamonds or other gemstones will be concentrated upon the face rather than around the entire ring..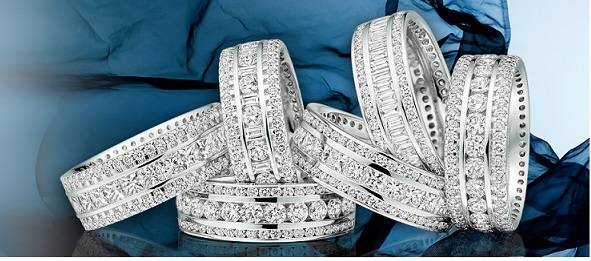 It is also worth pointing out that resizing a full eternity ring is a lot more challenging once made than a half eternity ring - so it is crucial to check your size carefully before you buy.
Whether you go for 9K or 18K gold, platinum or palladium is largely down to personal taste and of course how it will look when coupled with the engagement ring, if applicable. Our general advice is, if in doubt, to opt for 950 platinum or palladium as the ring mount will inevitably endure some considerable degree of wear and tear if worn constantly next to any other ring. As these precious metals are very hard and resilient they tend to be very popular.